Statement
Sometimes I paint in order to liberate the pent-up emotions from months or days or years ago. Sometimes I paint because I have nothing to say and I just need to paint. Sometimes I have this feeling that something has taken control of my hands and the energy needs to be released with brush on canvas. Sometimes I hate what I paint and I get frustrated and end up painting nothing.
My intention in creating my pieces is not to reinvent the wheel, nor to find immortality. I paint because I love the smell of fresh paint. Because I love the wine and rum that tend to accompany the work hours. Because I love the smell of cigar smoke in my studio. I paint to meet the challenge of reinventing reality in each new work, of having the eyes and faces of my subjects be the ones to observe the viewer. I seek that my brush strokes do not hold fear, that they are free-flowing, allowing the paint and brush run freely on the canvas.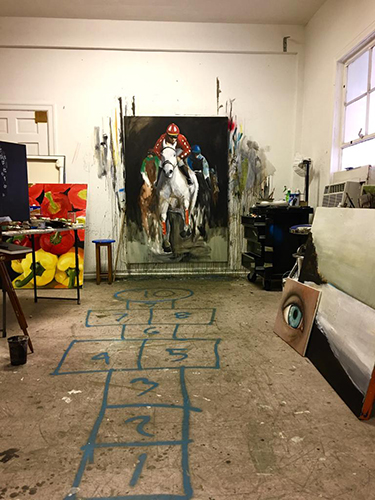 Abraham is a multidisciplinary artist, his goal is to create, to be creative, inventive, he's always looking for new mediums to express himself, he works in music, sculpture, jewelry design, furniture and guitar maker, designer of interior spaces, etc.
From playing in bands to karate instructor. Abraham has had a multiple of rich experiences which he draws upon when creating his works. A few years spent traveling and working with a circus allowed him the opportunity to travel and meet people from all over the world. This instilled in him a passion for discovering new horizons wich in the time developed into deep artistic talent.
With uninhibited brushstrokes, Abraham's art lies between abstract and figurative.
His artist's eye, a natural sense of form and balance, and a unique voice give each piece a soul all its own.
Today as  a full-time professional artist, Abraham works with galleries and collectors in the US,Europe, Latin America and Asia.
His story has been published in several magazines and newspapers including Forbes mx. And USA today etc.
Abraham's life has been a journey full of colorful experiences of all kinds.
Let's Start Something new
Abrahamm works with collectors both internationally and nationally.